Bride and Groom Bathrobes
Purchase Quality Embroidered Bride and Groom Bathrobes from £12 (Euro 14.40)
We offer a great quality bathrobe coupled with an embroidery service where each bathrobe can be embroidered either Bride or groom text or just have a personalised name on it. The collection of bathrobes on offer are an deal wedding gift and is made using the same quality 100% soft cotton.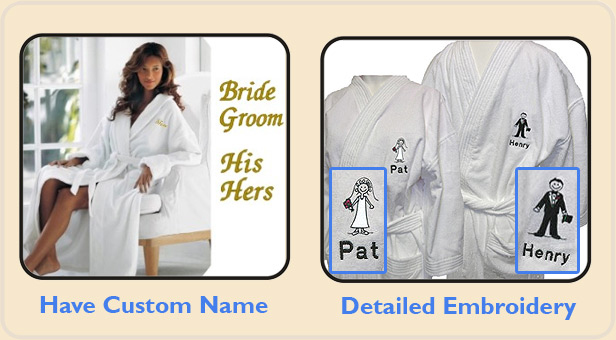 Quick Delivery
Kids 100% Cotton Robe

Fast Turnaround
Next Day Delivery

Stocked Robes
In original colours including white
Combed Soft Cotton with detailed Bride and Groom Embroidery
The embroidery service which we offer means that each bathrobe can be personalised with either a logo or a custom name in any colour customer may wish. The classic options are having 'HIS' or 'HER' embroidery in gold, 'Bride' or 'Groom', or have a name. If you have another idea then email us for an instant quote. View a video example a back detailed embroidery work.
To place orders Email or call us today - Delivery charges from only £6 for up to 15 Bathrobes. Orders to Ireland delivery charge only £9
To send orders to main land UK then the delivery charge is only £6 - that means that if you buy 1 or 15 bathrobes the delivery charge is the same. Delivery charges to Mainland Europe or to Ireland is only £9. For more information call us today.