Chicks on tour with your customised text below
Product Code:

HEN011
Availability: In Stock
Front Custom Text::
Use a forword slash (/) to represent a new line.
your text will then be carefully arranged by our graphic design team.
Quote Calculation
£6.65 (Incl VAT)
£
5.54
(Excl VAT)
(This amount include the cost of
1 garments and printing charge )
Chicks on tour Hen Party t shirt with your personalised text underneath
The front of this hen t shirt is a very stylish red coloured Chicks on tour text with a very cool chick image on top. This Hen party t-shirt with the text "Chicks on tour" is the ideal t shirt for a hen night, you can use this template of the T-Shirt for your own text and personalisation. Once you've come up with a design you can then have the option of customising your own name and number on the back side of the T-Shirt on the different coloured t-shirts that we have in offer. This t shirt can be worn to lady's hen night party to reflect the joy and celebration. You can get your customised text printed on any of the variety of coloured t-shirts that we offer so that it is the best match for you. If you have a different requirement and need further modification of the design then contact us. The more you buy the more you save below you can see the breakdown of the prices for garment plus the front and back printing. If you buy more than 11 piece then price will be less. Once the order is placed we will email you the confirmation of your design before printing the order.
Selection of product choice - we offer a wide range of garments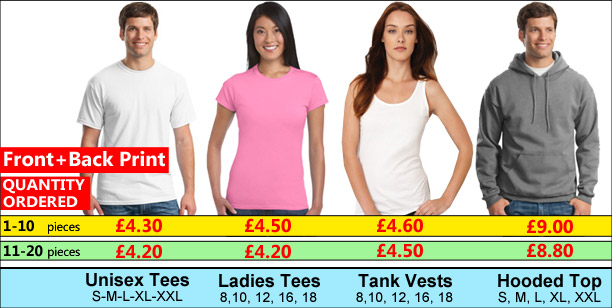 Select Print colour for your design - Below colour chart guide
We offer a huge choice in colours when it comes to printing your design. Print colours include Hot Pink, White, Gold, Mettalic Gold, Silver, Red, Bottle, Black and many more colours. If you have a different print colour requirements then let us know and we will try to cater it

Delivery Times for custom clothing orders
When it comes to making custom clothing we really do need a week and half from payment. Once the order is paid we will start the design phase and email you for your approval when you ok the design then we will print the order. The whole process from payment to delivery takes 7 - 8 Working Days. If you have a deadline please do mention that. Once order is placed we will make the artwork design and email you for your approval
Discounts for Bulk orders:
If you need a bigger order for a large group then we offer lower prices for bulk orders - Email us today for lower prices if you plan to place a bulk order sales@bathrobesuk.co.uk
Delivery / Carriage charge:
Please note delivery time for custom clothing orders is 6 - 7 working days (we can do it quicker if you have an urgent deadline). Delivery charge is flat £6+VAT (for the first box in which we can fit 30 items) – Every next box will be charged at £4+VAT (e.g. 100 items we have to fit in 2 boxes so delivery charge will be only £8+VAT for the 2 boxes)
Looking for printing on something else? Have you seen our 2000+ product ecatalogue
If you are looking for something different or a different product which you cannot find here then have you seen the below link to your ecatalogue in which we offer some 2000+ products to select from. Have a view of the catalogue and let us know if you need something else with your design printed on to for your event, hen or stag night or party etc