Waffle crown custom date and text Embroidery
Need a bulk order for plain or personalisation? Contact us for a better quote

Product Code:

WR124CROWN
Availability: In Stock
Price:
£37.79

(Including VAT)
£31.49 (Excluding VAT)
Waffle crown custom date and text Embroidery
If you are looking for something elegant then we have this crown design which you can get embroidery of your name and date personalised on the back of the waffle gown. These luxury waffle robes with back crown and custom text embroidery will make a great gift item. Its a full length robe which we are offering in 2 sizes from stock. This is ideal to wear for home use or for bridal night wear. It's comfortable to wear and with its 2 deep pockets make it a perfect choice for any individual.
Fabrication Description of the waffle:
This is a WAFFLE towel fabric - which comes in many colours - 280 GSM waffle with back large embroidery with your custom text and date
Robe Features:
This robe comes with a matching double belt loop for height adjustment
Matching cotton Belt packed with each gown
2 Deep pockets Back neck for Hanger loop ideal for hanging the robe
This comes in 2 sizes S/M (35-43") and L/XL (43"-51") approximate size guide plus or minus 1 inch
Super fine soft cotton
Washing Guide on waffle robes
Waffle robes generally shrink more than other garments due to the nature of the weave of the fabric. Best would be to dry clean or wash under cool water
Discounts for Bulk orders custom embroidery on waffle gowns:
If you are a spa, swimming club, hotel, bed & breakfast or just for personal use and need a bulk buy for custom embroidery then contact us via email for a better price on sales@bathrobesuk.co.uk
Delivery / Carriage charge:
It takes 7-8 working days for custom text embroidery on robes (we can do it quicker if you have an urgent deadline please mention that). Delivery charge is flat £6+VAT (for the first box in which we can fit 10 robes) – Every next box will be charged at £4+VAT (e.g. 20 robes we have to fit in 2 boxes so delivery charge will be £8+VAT for the 2 boxes)
Robe measurement chart:
This product is ideal for customisation with your logo – we offer a complete in-house embroidery service where you can get your bathrobe embroidered with your logo. Email today for a quote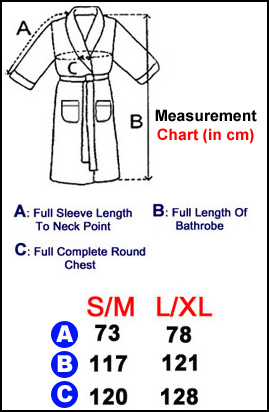 Super Deals on Offer